Athletes Gianmarco Tamberi of Italy and Muta Essa Barshim of Qatar recently tied during the competitive men's high jump.
First, the competitors both flawlessly completed a jump of 2.37 meters (7 feet, 9.25 inches).
Then, they both attempted a 2.39-meter jump, but neither athlete achieved it after three attempts. 
Luckily, the rule book permitted that they could either settle the score over a jump-off… or they could share the number-one spot and split the gold title.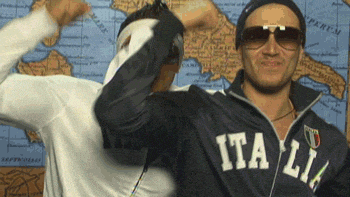 Thanks to the little quirk in the rule, both got to take home a gold medal for the men's high jump from the Tokyo Olympics.
Video from the competition shows an official trying to explain the guideline when Barshim had a question for them: "Can we have two golds?"
The official responded, "It's possible."
What followed was a truly heartwarming moment. Tamberi (who sports an excellent man bun btw) warmed up for a high-five and then gave his competitor a full-body embrace.
Both men were clearly moved by being able to share the golden moment together, and the internet was just as delighted.
Exemplary sportsmanship—we love to see it.
Watch the full-length video HERE.