Parenting is hard—especially when your kids love doing things that you aren't really into.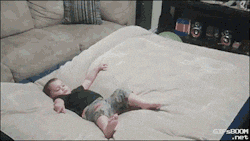 My toddler loves when I chase him around the apartment, and I am not crazy about that—mostly because I am lazy, but also the apartment is small and he's definitely going to run into a table corner one day. But I tell him we can do it three times, and it makes him pretty happy.
One mom on TikTok recently made a video showing that it's okay to struggle with knowing your kid loves doing an activity you don't care for:
And also living with the feeling that you would rather not do the activity.
Lynn Marie from Indiana has a daughter who loves to play Barbies. Lynn Marie? Not so much.
She'd rather take her daughter outside than play pretend with dolls.
Her video has sparked conversation amongst parents, who are often told they can't possibly have such feelings.
Guess what? Having kids doesn't take away the fact that you'd prefer to be outside or would rather do arts and crafts or read indoors.
"Last night my daughter asked me to play with her and I hate doing that," she said in the video. "I will go for a walk or take her somewhere, I don't want to play with Barbies. But I felt bad because she is my only child."
"But I did it. Very half-heartedly for like 10 minutes," she added. "It wasn't a big deal."
Well, it turns out that even 10 minutes of half-hearted Barbie play time meant the world to her daughter: She came down the next morning and told her mom, "I had so much fun when you played Barbies with me last night."
So Lynn Marie has a message for parents: you don't have to absolutely love every second you spend with your children. However, you can take a few minutes to make them happy—even if it means playing your least-favorite game with them.
"So IDK. But maybe if your kid asks you to play today, maybe take 5 minutes to try," she advised.
Watch the full video here:
Featured Image: TikTok