"9-1-1, what's your emergency?" A GIANT F-ING SPIDER.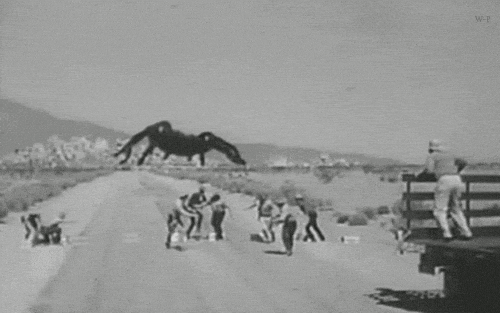 One Scottish woman got the fright of her life when she was settling in to go to bed.
Hollie Hunter, 30, of Livingston already had her fill with pests that night.
She told Edinburgh Evening News, "I'd just spent 40 minutes trying to get rid of a moth to then come back into my bedroom and find a massive spider at the bottom of my bed."
Hunter's late-night screaming alarmed her neighbors and it was so heinous they phoned the authorities, assuming there must have been an intruder or accident.
According to Hunter, the spider was the size of her palm.
A few minutes later, the police were knocking at her door, with two riot vans parked outside.
Hunter said, "I opened my door, and before they could say anything I just cried: 'I'm so sorry there's a spider under my bed and I'm petrified!'"
The authorities helped Hunter move her bed and gently disposed of the spider, but not without chuckling at the situation.
She shared her harrowing experience to Facebook, and the post has collected thousands of shares and likes.
Hunter's family and friends were amused by the situation, as well as fellow Facebook users who hate spiders just as much.
Something tells me that she's never going to live this one down…