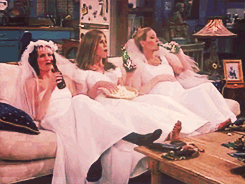 Some have postponed, others have downsized, and others have eloped.
But for bride Alexis Coffey, who had just moved to Texas with her partner, finding bridesmaids in a brand new town proved to be the problem.
So she decided to ask strangers to be in her wedding party—a choice she still feels was the right one for her situation.
Coffey and her husband moved to Texas in January 2021 and were unable to meet new people because of the pandemic.
Coffey, who corresponded with Business Insider about the unusual setup, explained that people often lose touch with their wedding party, so why not ask strangers to participate: "They become strangers, so why not make them strangers from the beginning."
Coffey found her bridesmaids through the app Bumble BFF, by meeting people in her neighborhood, and through her wedding photographer.
She ended up with five bridesmaids in total. One of her bridesmaids, Danielle Haley, made a TikTok about the whole situation, which has since gone viral. Haley had also just moved to the area and was similarly looking for friends on Bumble BFF.
"I think it's a really cool idea to meet new people and to be part of their special day," Haley said.
"The TikToks have been really unexpected but super fun," Haley added. "I've met a lot of girls in the Dallas-Fort Worth area and plan to keep sharing my story of meeting new girls and hopefully attending some more weddings."
Coffey told Insider she's glad she asked people she didn't know to be part of her wedding.
"I would not have wanted it to happen any other way," she said. "Everyone we found was so supportive and friendly. It was like we'd been friends for years. Our favorite part of the whole experience is now we have new friends to keep in touch with."
Featured Image: TikTok