When birth control became widely available in the 1960s, it was a game changer for women.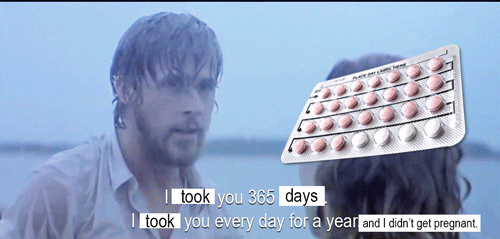 They no longer had to worry about becoming pregnant and upending their lives or abandoning hard-fought-for careers.
Today, many women still take hormonal birth control, or the birth control pill. There are many different kinds of pills, and they all affect women differently—and while many women are on the pill to prevent pregnancy, some have to take it for other medical issues unrelated to sex.
Unfortunately, some of the effects of the birth control pill are really quite awful—and it can feel like women are sacrificing a lot while men are not.
One woman recently started a conversation on Twitter about her shock at receiving a birth control pill and reading all of the medical literature about potential risks:
"Started a new pill today and wanted to show men on here what women have to go through so you don't have to wear abit of rubber. This is the info leaflet next to a pen for size reference. Yes it's double sided."
She also reminded folks that "not everyone takes the pill purely as contraceptive I don't."
"But this leaflet has two halves of each side dedicated to blood clots and a whole quarter on every side effect. Why should WE have to go through this and not men?"
The post encouraged other women to share their experiences on the birth control pill.
Obviously, this isn't meant to scare women from taking birth control but to raise awareness as well as question the sexism inherent in contraceptive technology.
Bored Panda reached out to the author of the tweet, Georgia Shaw, to ask her about her experiences and why she created the tweet: "With Rigevidon, I've had some instances of mood swings, but for the most part, it's been okay," she said, adding that her "skin has actually cleared up," and 'the only side effect I've fully experienced is craving fatty foods."
Georgia explained that she would like men whose partner is on hormonal birth control to "give them time and understanding and just to go the extra mile to make sure they're feeling okay."
"It means a lot to us when a man is accommodating and understanding of what we go through. They also should make sure they're educating themselves on the side effects and risks, looking out for signs of stroke and blood clots in their partners as there's a relatively high risk of us having one on hormonal birth control."
Featured Image: Twitter